Online Features
Press Releases | Batam Report Vol. 10
Ready-Built Factories for Investors
As a duty-free island, Batam's export from trade and industry reached US$6.8 billion as at the end December 2001, a significant contribution of 14% to the national non-oil-&-gas export value. This contribution came from the more than 530 foreign manufacturing plants and 9,000 domestic companies in Batam.
Industries are growing at a very rapid pace, due to the simple procedure for the relocation and/or expansion in Batam. There is practically no restriction for industries to set up in Batam, which has made Batam a popular destination for light, medium, and heavy industries.
Their coming to Batam is also assisted by 15 (fifteen) industrial estates, offering from land lots to ready-built factories. On the other hand, the vast growth in the manufacturing industry also provides demand for industrial parks in Batam.
Development of Latrade Industrial Park in Batam Island is certainly bringing an added value to the industrial conducive climate. The recently launched Latrade Industrial Park (LIP) is situated in Tanjung Uncang, on the West Coast of Batam. In order to he recognized as the leading developer of industrial estates by clients, investors and competitors, LIP is designed to meet sophisticated requirements of modern industrialists seeking cost effective relocation or expansion opportunities. The development project is backed by two publiclisted companies in Singapore, established companies in civil engineering, general building, manufacturing, marketing, distribution and trading.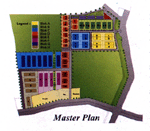 Spanning over 35 hectares of land with 68 factory units, LIP offers a spectrum of factory designs and sizes, ranging from 900m2 to 3,000m2 of built in factory area. LIP's design concept focuses on a fully integrated industrial park that provides supporting infrastructure, facilities and amenities, ranging from back-up generator, clinic, sport facilities, to dormitories, plaza and food court, within a competitive and pleasant manufacturing environment. It is geared to meet the global needs for an efficient and conducive manufacturing environment. The park eaters various operational requirements of the light to medium industries including warehousing, packaging, printing, material processing, plastic moulding, furniture, PCB and electronic assembly.
On the soft launching of the Latrade Industrial Park on January I8, 2002, 70 guests representing foreign and local investors, as well as government officials, expressed their confidence in the growth of Batam. Aiming to he recognized by clients, investors and competitors as the leading developer of industrial estates or industrial parks, LIP handles projects with a style of service focused on excellence.
Foreign investors have been the backbone of Batam's development. With the presence of more industrial parks, these parks compete to provide investors with the best service at the best and most competitive prices for their factories in Batam. BI DA has always promoted and championed the conducive climate for investment in Batam, where investors can prosper and he successful in their ventures in Batam. This invitation from Latrade Industrial Park and other industrial parks in Batam will take you a step closer to be the heart of industry in Asia Pacific.