Online Features
Press Releases | Batam Report Vol. 10
Investment Mission from Japan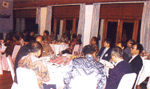 Batam Industrial Development Authority (BIDA) is the appointed institution by the Government of Indonesia to develop and manage Batam as an industrial zone.
Today, Batam has become more than just an industrial zone. It has become one of the most competitive industrial zones in Asia Pacific. The 715-sq.km area is growing at a rapid pace, with au economic growth of 7.7% last year, that leads to more investors putting their interests to invest in the island.
This recognition comes after years of promotion introducing the island to investors worldwide. At the beginning of the 1970s, it was a humble island with 6,000 fishermen without being acknowledged in any way, except its existence on the map. Through the efforts of BIDA, industrialists in Asia Pacific are well aware of Batam, and its strategic role in providing more competitive advantages than other areas in the region. From time to time, investment delegations have visited to obtain first-hand experience of the island.
Recently, on February 13-I4 2002, more than 30 Japanese investors, as part of the "Japan Outward Investment Mission" visited Batam to seek investment opportunities and deepen their perspectives on development of the island. This delegation comprised of businesspeople from Tokyo and Osaka; together with officials from the Indonesian Embassy for Japan, ASEAN Centre Japan, Shizuoka International Business Association for Medium and Small Enterprise Corporation of Japan. The two-day program consisted of meeting with officials of BIDS a sitevisit to one of the many Japanese companies operating in Batam, and a dinner function hosted by BIDA.
The meeting at BIDA provided all members of the delegation with a presentation and information on incentives offered, facilities provided, and investment opportunities available in Batam, both industrial and trading as well as infrastructure- projects; which was Outlined by BIDAA Liaison Officer for Japan, Mr. Hajime Kinoshita. Furthermore, Mr. Ismeth Abdullah, the Chairman of BIDA welcomed the delegation and disclosed that Batam has attracted 160 Japanese companies (30%) out of 530 foreign companies operating in Batam, contributing an investment value of US$ 1 billion.
Members of the delegation also met and had a discussion with the management of GIKEN, Mr. Tanaka, who shared their success story and experience in the expansion of Batam. He informed the mission that Batam is attractive due to its competitive investment and operation costs. which result in a higher profit margin. The delegation later also had the opportunity to visit the factory of Sumitomo Corporation in Batam, observing day-to-day operations of the multinational.
The Japanese businesspeople who took part in the mission, were also entertained With a rich variety of Indonesian traditional food and culture. Wardana, Head of Economics of the Indonesian Embassy for Japan. expressed enthusiasm of delegation on the development of Batam and attractive incentives and facilities offered. The Embassy of Indonesia will lead another mission of potential investors this coming June.
Batam has become more widely known as an investment destination to be valued highly due to it conducive climate for investment.